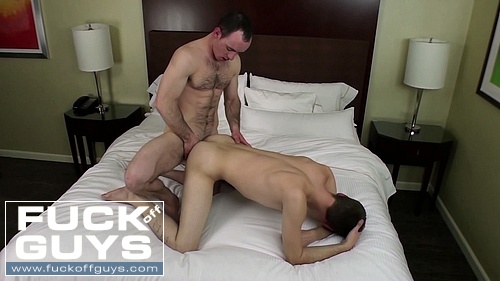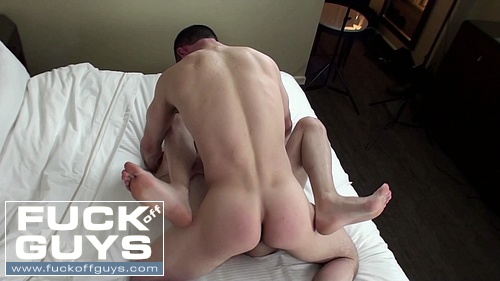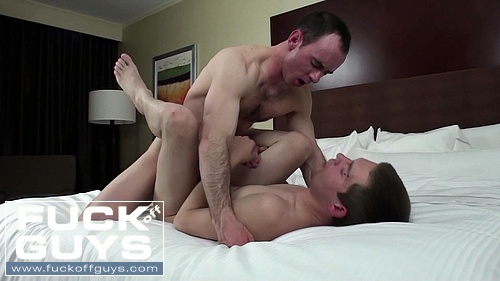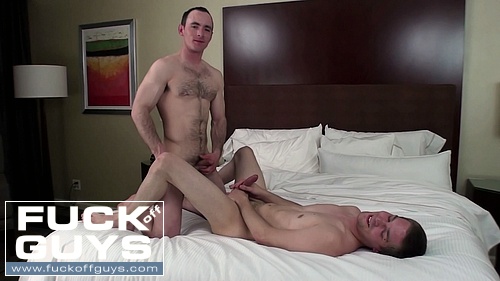 A lot of straight guys are willing to get blown by a gay guy. In fact, many prefer it as guy guys give better head. We all know that. A straight guy can just close their eyes and pretend it's a chick sucking on their cock if they so desire.
Shane, 27 is a straight guy that came to us and said that he's already received a BJ from a dude and "now I want to fuck a dude in the ass". OK we can arrange that we said… Shane has an amazing body covered in all natural body hair. We were so happy to see this manly man!
In comes 20 year old, rising porn star, JJ. We really like JJ's look… great face, nice smooth body and a really fun personality. JJ's perfect for this shoot as we know he would help make Shane at ease and show him the ins-and-outs of fucking a dude in the ass.
The guys start with some oral action with JJ going down on Shane's veiny dick which turned rock hard in a matter of seconds. They move over to the bed and JJ eases Shane's dick in his hole. JJ rides Shane for a while.
Shane was so excited to finally be fucking a dude, he almost shot his load within the first minute of being inside JJ. We had to stop for a minute to calm things down.
We had the guys start up in a new position (doggy style) and that seemed to help keep Shane's load at bay for the time being. Wow we were glad we moved the guys into this position as it really shows of Shane's incredible ass. It really must be one of the best looking asses we have ever seen.
Shane continues to pound JJ and then flips him over on his back and really gets into it, speeding up his thrusts into JJ's ass. We could tell Shane was getting close as his already rock hard body was really starting to tighten up even more.
Shane pulls out and shoots his load all over JJ's cock and stomach. With freshly laid man juice covering him, JJ's shoots his load while his whole body quivers from the incredible release.
These guys did a great job, produced two big loads of cum making one great fuck video!