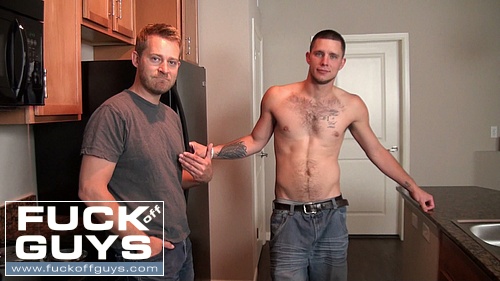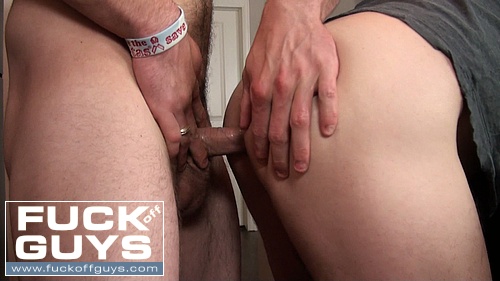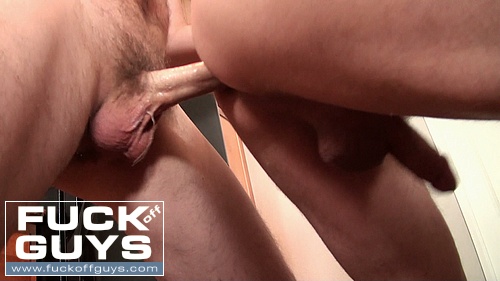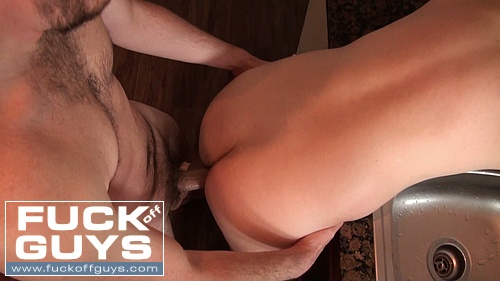 For our latest update on FUCKoffGUYS.com, Walker Michaels and Seth Chase get busy in the kitchen pounding Aaron French's butt.
Aaron and Walker are hanging out in the kitchen goofing around. Seth makes his way in with the camera. Aaron starts out by licking Walker's sexy chest and nibbling on his nipples and rubbing his underwear which had his already hard cock poking through. Aaron pulls down the underwear and goes to town on his dick and hairy nut sack.
How could this not be a Walker Michaels shoot with out some hot rimming, right?. Walker throws his leg up on the counter allowing Aaron to get his tongue deep into his manhole.
Now Aaron was ready for some kitchen ass fucking. Bent over the counter, Walker inserts his cock up Aaron's butt. Walker drills Aaron's ass like a pro. Walker and Aaron move around the different counter tops, fucking like dogs in heat.
Once all the clothes come off, Walker bends Aaron over for a standing fuck. He pumps and grinds and Aaron just keeps wanting more! As Walker is fucking Aaron's ass, Aaron opens up Seth's pants for a nice spit-roast. Walker, egging Aaron to suck Seth's big dick.
Walker gets so excited by the fucking and sucking he has to nut early! He really caught us all by surprise, including himself. He says "I might cum! I might cum!". Which really meant, I'm 100% for sure with out a doubt going to cum now…
He rips off his condom and instantly, a huge load sprays everywhere. Aaron catches as much as possible in his mouth then sucks down the rest from Walker's throbbing cock.
Thankfully we captured cumshot on camera! Walker felt bad and kept apologizing. No need really as it turned our really, really hot.
Walker then grabs the camera from Seth to capture Aaron and Seth fucking raw.
With lube still oozing out of Aaron's hole, Seth sticks his dick and starts to pump. With Walker making comments all along the way, Seth pounds Aaron's ass bareback until he's ready to shoot; and shoot he does. He covers Aaron's cheeks and hole with a nice load of cum!
We had a great time working with Walker and we hope you guys enjoy! Until next time…