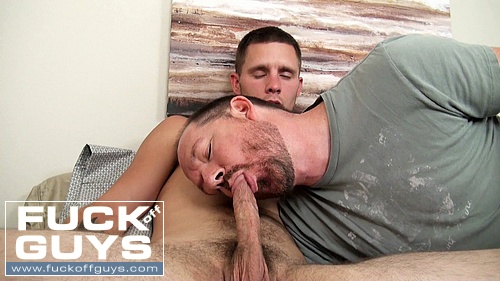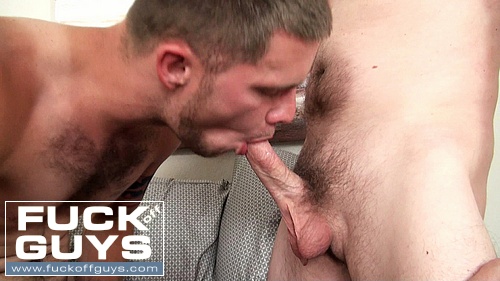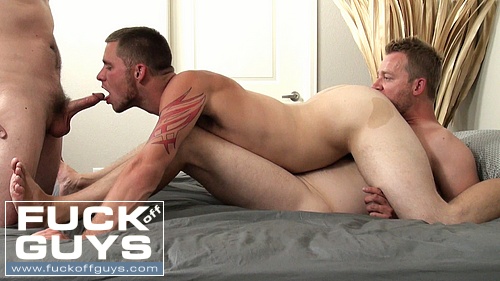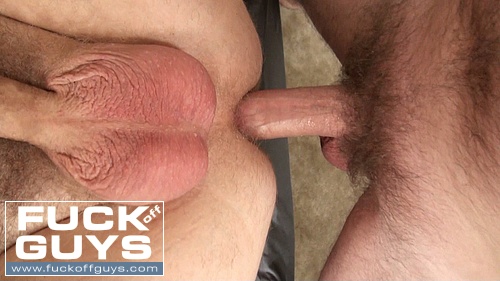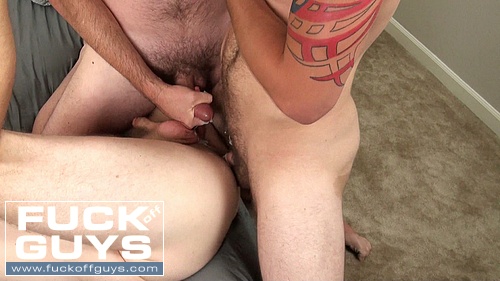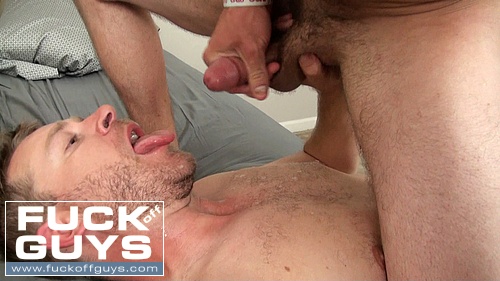 Our favorite straight stud, Walker Michaels, chatted with Aaron French and let him know he was ready to do something "different" and go a little further. He wanted to do a 3-way fuck and suck. Aaron and Seth Chase were intrigued by Walker's idea and this latest update was the result.
This is Walker's first time sucking cock on or off camera. Seth was the luck guy to be Walker's very 1st!
As in most of Walker's videos, he has a few wise words beforehand which makes Walker who he is. We love it, he always makes us laugh.
We start out with Aaron asking Walker and Seth a few questions and then it's time to get the suck and fuck off and running.
Seth and Walker are lying on the bed. Seth begins the action by opening Walker's pants to reveal his bulge. Walker slips off his pants and Seth pops Walker's dick into his mouth. Walker is hard instantly!
Walker makes the move and takes off Seth's shorts. He rubs Seth's package through his underwear. Walker then slides off Seth's drawers and begins to lick and suck Seth's raging hard-on. Walker is surprisingly good at working on Seth's cock.
Walker's hot lips on a cock is a sight to see! He bobs up and down on Seth's cock then has a dick-to-dick rub down mixing clear pre-cum from both cocks. Seth goes down on Walker some more to get a taste of his pre-cum.
Seth then feeds Walker his hardon and pumps his face; Walker reaches for Aaron and begins sucking on him too. Aaron follows with going down on Walker. As Aaron is sucking Walker, Walker then goes down on Seth for more.
Walker and Aaron start to 69 as Seth films. Aaron then moves on to Walker's asshole to pay that some attention. Walker sucks on Aaron as his hole gets eaten out.
Seth was ready to have Walker work on his cock again. Walker moves right in and takes Seth's dick from soft to hard in no time. All the while, Aaron keeps tongue fucking Walker's hole.
It was such a hot sight seeing Walker suck on Seth and stroke Aaron's cock. Aaron also wanted to a taste of Seth's cock along side Walker. Walker was again having his ass eaten while he sucked on Seth.
After all that hot sucking and ass eating, Walker was ready to fuck Aaron's butt. Walker was horned up and ready to fuck hard. Aaron offers up his hole for whatever and however Walker wants to use it. Walker shoves his dick in and out of Aaron's hole.
Walker opens Aaron's hole with his thumbs and spits on his hole before he passes Aaron to Seth for him to fuck. Seth takes over and fucks Aaron raw as Aaron sucks on Walker's cock. Seth's rock hard cock goes deep and Aaron's hole is getting a hard workout.
Walker was ready for more fucking, so he starts over and fucks Aaron's butt. Seth was so excited watching Walker's dick in Aaron's hole that he shoots his load on Walker's dick as he's fucking. Seth's cum now becomes the lube and Walker goes to town pounding Aaron's ass pushing Seth's cum deep inside. The sensation of Seth's cum running down his nut sack makes Walker erupt! He pulls out and shoots his spunk all over Aaron's face.
There was cum everywhere: Walker's load on Aaron's face and in his mouth; Seth's load dripping from Walker's balls with some deep inside Aaron's ass; all over the bed and floor too.