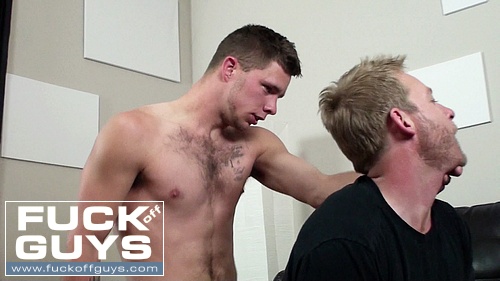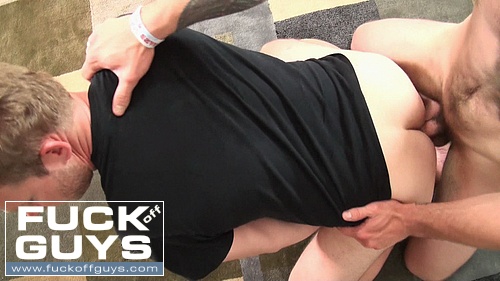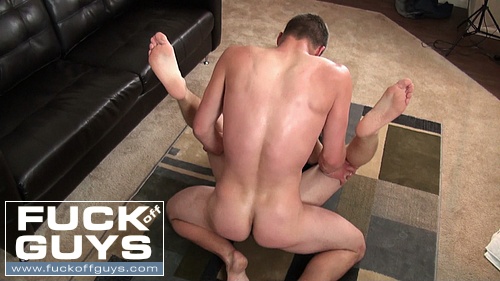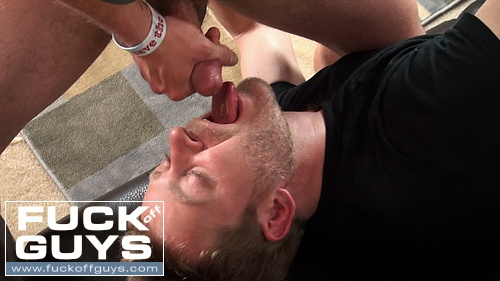 FUCKoffGUYS.com is excited to bring you one of the most well received and definitely one of our favorite guys from SUCKoffGUYS.com; 23 year old Walker Michaels. When Seth and Aaron mentioned to Walker that they were going to begin filming fuck scenes again, Walker was all over it.
Since Walker already felt comfortable with Aaron, he suggested that Aaron be the first guy to ever take his cock up the ass.
True to form, Walker is already puffy and ready for the pre-fuck blowjob. Walker motions to his balls wanting Aaron to work them over a bit. He does just that to every inch of Walker's sexy musty crotch!
Aaron plays with Walker's nipples and proceeds to then lick and bite which Walker loves! Walker shoves Aaron's head to his cock and makes him deep throat. He then thrusts Aaron's mouth with his cock.
Aaron makes his way to Walker's hole and begins to tongue fuck it. Aaron licks and kisses Walker's butt sending him into ecstasy.
After some more head, Aaron has Walker sit on his face so he can get a full taste of Walker's spread hole. Walker squats over Aaron's mouth and bobs his ass on Aaron's tongue. Walker is now getting tongue fucked by Aaron! Both guys are in heaven!
Walker then puts his cock back in Aaron's mouth and asks Aaron if he wants to fuck. Aaron gets on all fours; Walker sticks his dick in and starts to fuck him really nice. Walker spreads Aaron's cheeks so you can see his cock going in and out. Walker fucks Aaron's hole and spanks his ass as he drills harder and harder.
Aaron and Walker move to the sofa for more hole fucking. Walker pumps his cock in and out of Aaron, then dives in really deep.
These two hot fuckers move to the floor. With Aaron's legs in the air, Walker climbs on, thrusting with all he's got. Aaron plays with his nipples and we get to see Walker's amazing ass flex as he fucks Aaron hard.
Walker then puts Aaron on the sofa. Walker was fucking so hard, he almost ripped Aaron's shirt.
He continues to pound away until he can't hold back. Walker pulls out and hovers over Aaron's mouth. He blows a hot load all over Aaron's mouth, tongue & face.
Cum is everywhere! This was one hot fuck scene.